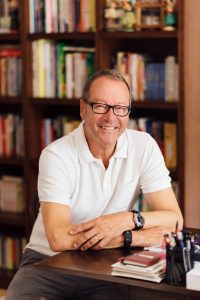 Ulrich Kellerer's decades of success in the fashion industry by taking care that people look good on the outside, interrupted by an accident of his mother, who had to face the nursing home Ulrich invented as a volunteer a one hour reading session to this gentle old people.
This changed and transformed him to take care that people feel good on the inside.
Doing readings from the "Chicken Soup for the Soul" series, Mark Twain and other attention grabbing short stories, he brings charm, entertainment, physical assistance and encouragement to a small audience (from 17-22) of people who average 83 years of age; one is age 95 and another is an incredible 107!
In his typical humble way, Ulrich relates astonishing tales of how these popular sessions, the most anticipated event on the nursing home's calendar, have led quiet, insular, depressed elderly folks to open their hearts, share their personal stories and connect better with their visiting family members than they have in years. And somehow, perhaps with divine assistance, Ulrich is helping to extend lives – perhaps due as much to helping with the cookies and water as the tales he reads! The average loss in the nursing home is one person a week, or 51 per year. In his first year there, only four people in his group passed away – and after the first year, there have been no further losses!
Ulrich's choice of the "Chicken Soup for the Soul" books for inspiration was hardly random. Even before he embarked on his adventures at the nursing home, Ulrich was eager for some new creative challenges at midlife. In 2012, he came to Philadelphia to attend a Bestseller Blueprint seminar with Jack Canfield (a top success coach and creator of the "Chicken Soup…" phenomenon) and marketing expert Steve Harrison.
Ulrich was inspired by Canfield's story (which included over 100 publisher rejections) and decided to try his hand at writing officially for the first time. The result was a dynamic chapter in The Soul of Success, an anthology of stories and business strategies by top entrepreneurs, headlined by Canfield himself. Naturally, Ulrich's chapter drew metaphoric wisdom and life lessons from his decades in the fashion industry. He called it "It's All About Fashion – There is No Second Chance For Your First Impression!"
True to its title, the chapter was driven by the idea that there is no second chance to create that first impression. "In less than one second," Ulrich says, "we decide whether we like someone or not. In fashion, it's all about judging by appearances and what we're wearing. But the truth of who we are goes deeper than that. Maybe those first impressions are wrong, and that guy we thought we didn't like at the start turns out to be a nice guy. We're trained to hide behind the products we have, the cars, watches and fancy stuff, but I want people to understand that we're more than just what people see on the surface. I talk about the ways fashion can be a strong tool to our ultimate self-expression, and how to identify the type of person you are. So I talk about things on the outside and how they connect with what is on the inside – and how to find your own style."
At their first meeting, Canfield gave Ulrich an empowering piece of advice: that penning a single book isn't as effective or as lucrative as creating a series like he did. This sparked a fresh concept Ulrich calls the "One Moment Can Change Your…" series. It will include "One Moment Can Change Your…Mind, Soul, Career, Health, etc." For the first volume, One Moment Can Change Your Life, the author got stories from several of the elderly folks he reads to at the nursing home. He also relates true-life tales he got from family members, his mother in law and many friends. To help in its promotional efforts and in an effort to develop a parallel career as an inspirational public speaker, Ulrich has also taken training with top vocal trainer Roger Love (Madonna, Eminem, Jeff Bridges) and had a video recorded of himself talking for the first time in front of 450 people.
"On a personal level," he says, "these writings are part of my desire to start a second life for myself with a new career beyond the fashion industry – finding new ways to help people, just as everyone can do something to make the world a better place. For years I gave money to global organizations like Greenpeace, and that's great, but the whole nursing home experience made me realize we can accomplish a lot right in our own neighborhoods. These elderly folks have given me so much just by listening. It will be my privilege to tell some of their stories in my book."
Ironically, it was his mother's declining health which opened this powerful spiritual door in Ulrich's life. Three years ago, she had an operation that failed and left her paralyzed, resulting in the need to place her in a nursing home. While his wife Inge continued to take care of CLOSED ladies' collection, Ulrich temporarily left his side of the business to a young man who was paid directly by the company's main office in Hamburg.
"I dedicated myself to taking care of my mother and volunteered to participate in many of the nursing home's events like Carnivalfest and Oktoberfest to spend more time with her during her time of adjustment," he says. "I also brought food and coffee to her elderly peers, and came up with the idea of preparing stories to read to them every Monday. Pretty soon, although my mom became a vocal critic of some of my readings, told me to talk louder and seemed jealous of the attention I was giving the others, it became the favorite hour of the week for many of them. I learned about the immense power and emotional impact of storytelling, which inspired my later writing endeavors and my ultimate goal now of succeeding in that arena.
"I see a lot of irony in all this," Ulrich adds. "Originally, I started reading at the nursing home for a selfish reason because I thought it would help my mother get the private room she wanted. When she passed away, they assumed I would stop doing charity work, but I found I loved reading to these folks too much to stop. I knew they wanted to hear funny, uplifting stories, and Jack's 'Chicken Soup' stories were a perfect fit. Connecting with these people created a complete transformation in me. For 35 years, I had been making people look good on the outside. Now all that matters is helping people feel good on the inside."
In addition to a desire to cultivate a new path of significance and connect with and impact people in a world far from his fashion industry roots, Ulrich explains that there is a significant spiritual component to his evolving work as a writer, storyteller and speaker. His perspectives on life and success were shaped by many different personal experiences at an early age.
Ulrich concludes that his ultimate goal is to share his message that everyone should do something to make the world a better place. "I'm so blessed with a loving wife and business partner in Inge and good friends," he says, "and embarking on these creative endeavors, I have met so many incredible people.
You can contact Ulrich at:
https://www.facebook.com/ulrich.kellerer.33
www.twitter.com/KellererUlrich